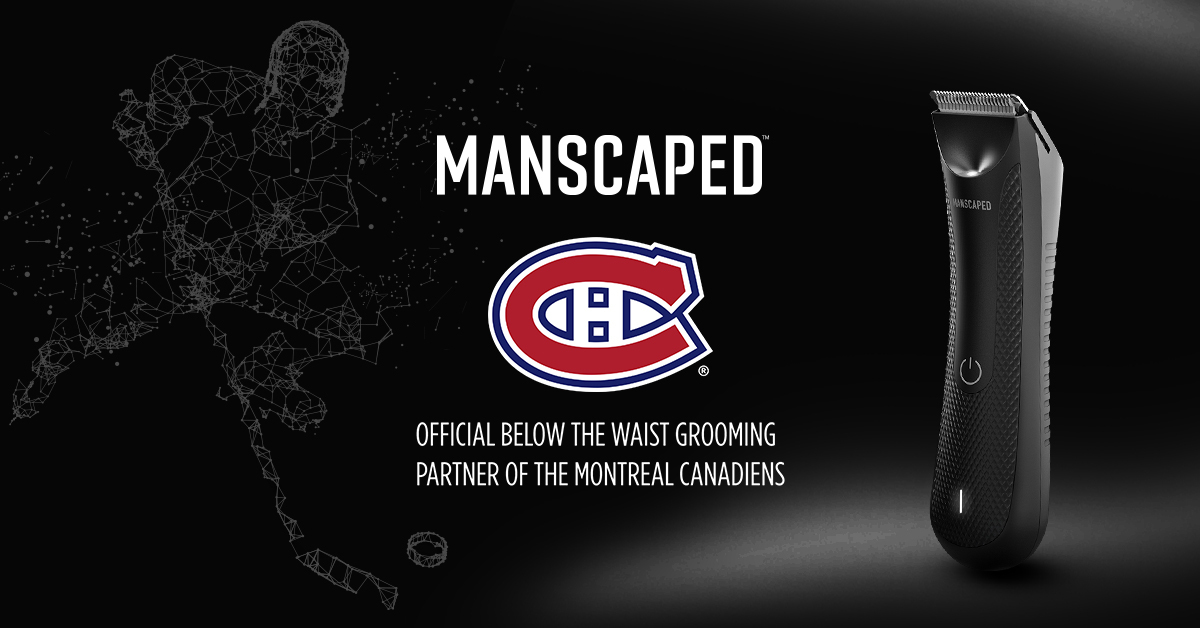 January 2021
MANSCAPED™ Designated Official Below-The-Waist Grooming Partner Of The Montreal Canadiens
The Grooming Brand's Renowned Sports Marketing Machine Continues to Spread Globally, Nabbing the Habs of the NHL
It didn't take long for MANSCAPED™ to flex its sports marketing arm in 2021. Today, the global leader in men's below-the-waist grooming and hygiene, has announced its newest partner: The Montreal Canadiens of the National Hockey League (NHL). Commonly known as the Habs and the oldest professional ice hockey team in the NHL, the historic sports franchise will kick off the highly anticipated 2021 season in true MANSCAPED style – with a freshly zambonied rink showcasing the grooming brand's iconic logo right on the ice.
"Teaming up with the most storied franchise in the history of the NHL is extremely exciting for us"
Just last year, MANSCAPED went public with a myriad of monumental partnerships spanning the world of sports across the globe, with designations including Official Electric Trimmer of the UFC®, Official Below-the-Waist Grooming Partner of the San Francisco 49ers, and Official Grooming Partner of the Wolverhampton Wanderers, among others. These strategic collaborations with such revered teams and organizations allowed MANSCAPED to boldly carve out a novel category within sports sponsorships, bringing below-the-waist grooming to the scene… and into the homes of millions of sports fans worldwide.
"Teaming up with the most storied franchise in the history of the NHL is extremely exciting for us," said Joey Kovac, MANSCAPED's Senior Director of Marketing. "The combined pride of the Habs, NHL, and land of Québec is palpable, and something we are lucky to experience by way of this tremendous partnership. We can't wait to watch the incredible matchups that the all-Canadian division will bring us this season. Hockey is back and we're all in!"
Without a doubt, the most explicit part of the partnership is the corner ice placement of MANSCAPED's logo at the iconic Bell Centre. Home of the Habs for 25 years, the downtown Montreal landmark has a sweeping capacity of 22,000, making it the largest hockey arena in the world.
2020 was a roller coaster for sports but one thing has remained constant: MANSCAPED's persistent sports marketing efforts and dedication to keeping fans engaged and entertained. This year will be no different.
About MANSCAPED™:
Founded in 2016, San Diego, California-based MANSCAPED is the global leader in men's grooming and hygiene below-the-waist. The product range includes only the best tools, formulations, and accessories for a simple, effective, and elevated male grooming routine. MANSCAPED offers direct-to-consumer shipping in more than 30 countries, spanning the United States, Canada, Australia, New Zealand, the United Kingdom, the European Union, Norway, and Switzerland. Retail placement includes Target and Best Buy locations throughout the U.S., with further domestic and international retail options coming soon. For more information, visit the website or follow on Facebook, Instagram, Twitter, TikTok, YouTube, and Triller.
Source : https://www.businesswire.com/news/home/20210115005115/en/MANSCAPED%E2%84%A2-Designated-Official-Below-The-Waist-Grooming-Partner-Of-The-Montreal-Canadiens