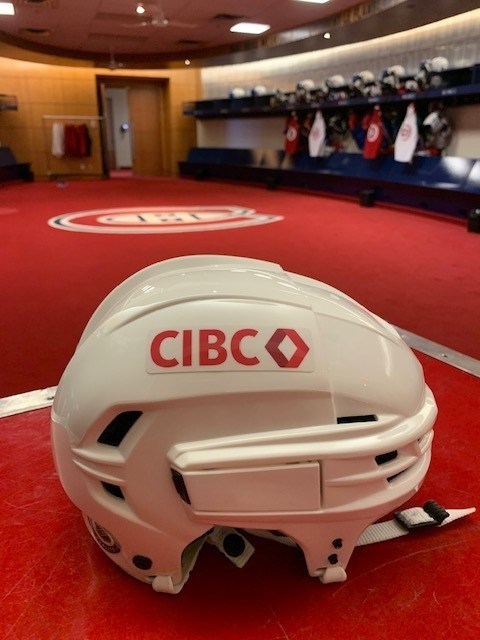 September 2021
CIBC Signs Multi-Year Sponsorship Agreement with the Montreal Canadiens
New partnership with the Canadiens reinforces CIBC's commitment to Quebec communities
CIBC announced today a new sponsorship agreement with the Montreal Canadiens that reflects the organizations' shared purpose of strengthening the relationship with the team's fans and supporting communities across the province.
"The Canadiens' storied franchise holds a special place in the hearts of the people of Quebec and hockey fans everywhere – and we are proud to partner with the team to make their fans' ambition to bring a championship back to Montreal a reality," said Stephen Forbes, Executive Vice-President, Purpose, Brand, and Corporate Affairs, CIBC. "In addition, the genuine enthusiasm our Quebec team members have for the Habs will undoubtedly be on display throughout the season – adding significant bench strength to an already passionate fan base."
Beginning with the 2021-2022 hockey season, key aspects of the partnership include CIBC's recently unveiled brand adorning the team's white away helmets and displayed prominently at the club's home arena in Montreal, including at centre ice. The branded helmets will be revealed during the Canadiens' September 25 preseason game in Toronto.
In addition, CIBC is working with the Canadiens to engage fans in new and unique ways, in and outside of the arena. The partnership will involve the two organizations collaborating on fan activities, exciting experiences, and more. Further information and details will be announced in the coming months.
The sponsorship also brings together CIBC and the Canadiens' commitment to positively impacting local communities, as both organizations are committed to helping improve the lives of young people through their respective charitable foundations, the CIBC Children's Foundation and the Montreal Canadiens Foundation. The two foundations will work together on initiatives throughout the multi-year agreement.
"It's only natural for us to pursue a partnership with such an established institution, which not only shares our passion for the game of hockey but also the desire to help local communities," says France Margaret Bélanger, President, Sports and Entertainment of Group CH. "This is exciting for the future of the relationship between the Montreal Canadiens and CIBC, who have demonstrated their readiness to take action to achieve the ambitious goals we have set for ourselves."
Today's announcement builds on a strong shared history between the bank and the city of Montreal. Some notable milestones include:
The first CIBC branch opened outside of Ontario was in Montreal in 1870.
CIBC was the only chartered bank onsite when Montreal welcomed the world for Expo '67.
When Montreal Canadiens legend Jean Beliveau passed away in 2014, CIBC honoured him by illuminating La Tour CIBC with the Captain's jersey number – a giant number 4.
Source : https://www.newswire.ca/news-releases/cibc-signs-multi-year-sponsorship-agreement-with-the-montreal-canadiens-884803360.html